Wakefield Rhubarb Festival 2020

Chef Rob Delve & Marketing Man, Ted Newton take to the stage over the next few days at Wakefield's Rhubarb Festival. It is a fantastic chance to celebrate the wonderful vegetable (it isn't a fruit!) and the local areas history of being the 'Rhubarb Triangle'.
The boys will be at the cookery demo stage on Friday 21st February at 12:15pm and Saturday 22nd February at 11:45am with 2 rhubarb related dishes which you can find below. We'll also have our familiar Wakefield wooden chalet, full to the brim with fantastic rhubarb produce, fresh from our bakery. Millie & Sharon will be there on the Friday and over the weekend so do go and visit them.
Here are a few fun rhubarb facts to get you in the spirit!!!
Colour matters! The colour of the stalk determines the taste. The darker the red stalk, the sweeter the rhubarb!

Rhubarb is normally considered a vegetable (it's a member of the buckwheat family) but a New York court ruling in 1947 made it an official fruit in the United States!

Beware!! The leaves attached to a Rhubarb stalk are poisonous, full of more oxalic acid than humans and animals can safely eat!

Rhubarb can reach 6 to 10 feet in height but your typical garden varieties are usually smaller.
Pan-fried Duck Breast with a Rhubarb & Sloe Gin Sauce, Tender stem broccoli & Sautéed New Potatoes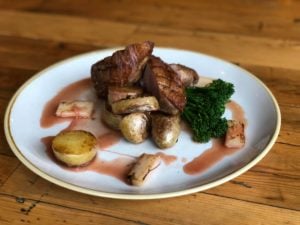 1 x Duck Breast
2 x Stalks of Rhubarb (Cut into chunks)
100ml Sloe Gin
100ml Water
25g Caster Sugar
30ml x Gravy
150g New Potatoes
60g Tender stem Broccoli
Vegetable Oil
Score each duck breast skin with a sharp knife in a hot pan with the vegetable oil and pan fry skin down. Once golden brown, flip skin side up and cook in the oven at 180C for around 8-10 minutes.
Chop the rhubarb into chunks & place in a pan with the sugar & sloe gin, reduce until Rhubarb is cooked. Add a little gravy to reduce the tartness of the sauce. Leave to simmer.
Trim the bottoms off the tender stem broccoli and cook for 4-5 minutes in boiling salted water. Cut the new potatoes into thick slices and Sautee in vegetable oil, salt & pepper. Cook until soft.
Present on plate how you like and enjoy!
Rhubarb & Chia Pudding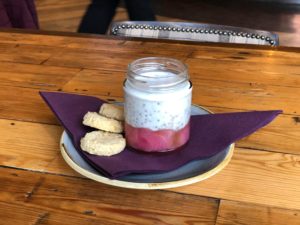 3 Stalks of Rhubarb (cut into chunks)
200g Caster Sugar
150ml Water
100ml Gin
400ml Coconut Milk
4 tbsp Chia Seeds
20 ml Maple Syrup
15g Icing Sugar
1 tsp Vanilla Extract
Add Chia Seeds to coconut milk along with maple syrup, icing sugar and vanilla extract. Combine with a spoon and leave to sit.
Add the chunks of rhubarb into a pan with the sugar, water & gin and bring to the boil. Summer until rhubarb has broken down. Leave to cool. Put rhubarb compote into a glass jar or gin glass. Pour a little maple on top & then pour on the coconut milk mix and refrigerate. Serve with a couple of shortbread biscuits.